Posts for tag: gum disease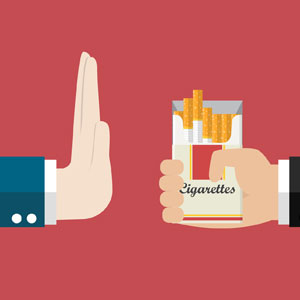 Your risk for periodontal (gum) disease increases if you're not brushing or flossing effectively. You can also have a higher risk if you've inherited thinner gum tissues from your parents. But there's one other risk factor for gum disease that's just as significant: if you have a smoking habit.
According to research from the U.S. Centers for Disease Control (CDC), a little more than sixty percent of smokers develop gum disease in their lifetime at double the risk of non-smokers. And it's not just cigarettes—any form of tobacco use (including smokeless) or even e-cigarettes increases the risk for gum disease.
Smoking alters the oral environment to make it friendlier for disease-causing bacteria. Some chemicals released in tobacco can damage gum tissues, which can cause them to gradually detach from the teeth. This can lead to tooth loss, which smokers are three times more likely to experience than non-smokers.
Smoking may also hide the early signs of gum disease like red, swollen or bleeding gums. But because the nicotine in tobacco restricts the blood supply to gum tissue, the gums of a smoker with gum disease may look healthy. But it's a camouflage, which could delay prompt treatment that could prevent further damage.
Finally because tobacco can inhibit the body's production of antibodies to fight infection, smoking may slow the healing process after gum disease treatment.  This also means tobacco users have a higher risk of a repeat infection, something known as refractory periodontitis. This can create a cycle of treatment and re-infection that can significantly increase dental care costs.
It doesn't have to be this way. You can substantially lower your risk of gum disease and its complications by quitting any kind of tobacco habit. As it leaves your system, your body will respond much quicker to heal itself. And quitting will definitely increase your chances of preventing gum disease in the first place.
Quitting, though, can be difficult, so it's best not to go it alone. Talk with your doctor about ways to kick the habit; you may also benefit from the encouragement of family and friends, as well as support groups of others trying to quit too. To learn more about quitting tobacco visit www.smokefree.gov or call 1-800-QUIT-NOW.
If you would like more information on how smoking can affect your oral health, please contact us or schedule an appointment for a consultation. You can also learn more about this topic by reading the Dear Doctor magazine article "Smoking and Gum Disease."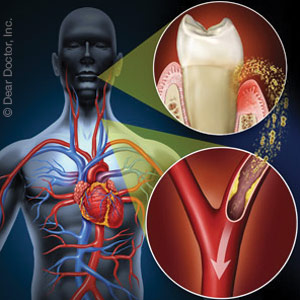 If you have periodontal (gum) disease, you probably already know you're in danger of eventual tooth and bone loss if the infection isn't brought under control. But if you also have diabetes, the effects from gum disease could extend well beyond your mouth.
Gum disease is a bacterial infection caused by plaque, a film of food remnant that builds up on tooth surfaces mainly due to poor oral hygiene. As the infection grows, your body's immune system responds by flooding your gum tissues with antibodies to fight it, resulting in inflammation. As the inflammation persists, though, it damages the gum and underlying bone tissue, which in turn leads to gum and bone loss from the teeth.
Diabetes also causes an inflammatory response within the body. The disease develops either as a result of the body's decreased ability to produce insulin to balance the glucose (sugar) levels in the bloodstream (Type 1) or the body develops a resistance to insulin's effects (Type 2). As a result diabetics experience abnormally high blood glucose levels, a condition called hyperglycemia. This triggers chronic inflammation that can lead to inhibited wound healing, increased risk of heart, kidney or eye disease, coma or death.
Gum disease can worsen diabetic inflammation, and vice versa. The effects of the oral infection add to the body's already overloaded response to diabetes. In turn, the immune system is already compromised due to diabetes, which can then increase the severity of the gum disease.
Research and experience, though, have found that pursuing treatment and disease management for either condition has a positive effect on managing the other. Treating gum disease through plaque removal, antibiotic therapy, surgery (if needed) and renewed oral hygiene will diminish the oral infection and reduce the body's immune response. Caring for diabetes through medication, diet, exercise and lifestyle changes like quitting smoking will in turn contribute to a quicker healing process for infected gum tissues.
Treating gum disease when you have diabetes calls for a coordinated approach on both fronts. By caring for both conditions you'll have a more positive effect on your overall health.
If you would like more information on the relationship between diabetes and gum disease, please contact us to schedule an appointment for a consultation.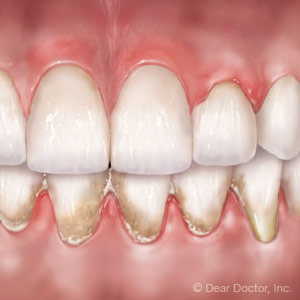 You have a great smile: beautiful white teeth all perfectly aligned. But unbeknownst to you, periodontal (gum) disease might even now be damaging your gum tissues, setting the stage for future tooth and bone loss — and a ruined smile.
While it's easy to miss the early stage of this disease caused by bacterial plaque on tooth surfaces, there are a few signs if you pay close attention. Bleeding gums after moderate brushing or flossing could indicate normally resilient gum tissues have begun to weaken. You may also notice a slight redness and swelling around the margins of the gums and a bad taste or breath. As it progresses, you may experience painful abscesses (infected pockets that develop between the gums and tooth) and loose teeth, a late sign of tissue detachment and bone loss. If you are a smoker, nicotine reduces swelling and bleeding of the gums, removing signs you have a disease. If you smoke, you need to see your dentist regularly.
While renewed daily oral hygiene is important for stopping gum disease, you may also need professional care to bring it under control. The main treatment calls for the manual removal of plaque and calculus (hardened deposits of plaque) that are sustaining the infection. Dentists and hygienists both can perform scaling, which removes plaque and calculus at or just below the gum line, and root planing to clean accessible root surfaces.
In more advanced cases, though, you may need the services of a periodontist, a specialist in treating diseased or injured gums, bone and other connective tissues that support the teeth. They're also skilled in more advanced treatments like gum flap surgery that more fully exposes a tooth's root area for plaque and calculus (or tartar) removal, or tissue grafting procedures that improve the health and appearance of damaged gums.
If you suspect you have gum disease, the place to start is with your family dentist. They can determine if your case will respond to basic scaling, root planing or antibiotic treatment. If the disease appears more advanced or with complications, they will most likely refer you to a periodontist for treatment.
If you've already seen bleeding, swelling or redness, see your dentist as soon as possible. The sooner you begin treatment for any case of gum disease, the less likely it will lead to the loss not only of your teeth but your beautiful smile.
If you would like more information on the treatment of periodontal (gum) disease, please contact us or schedule an appointment for a consultation. You can also learn more about this topic by reading the Dear Doctor magazine article "When to See a Periodontist."